NEWS 2005
Posted Aug 22, 2005
September 17, 2005
The Valley Beneath our Feet
A Guided tour of the Geology of the Edmonton River Valley
Saturday September 17, 2:00 - 4:30 PM
With Esteemed Geologist Dr. Dave Cruden
Professor Emeritus University of Alberta
During the walking tour of the river valley you will observe the quaternary geology of the river valley, relic landslides, stone weathering, historic flooding, coal mining, river erosion, tunneling and groundwater discharge features.
Meet at the parking lot west of the High Level bridge in Kinsman Park by the LRT Bridge (stop 2 on the Valley Beneath our Feet tour). Enter Kinsman park at the bottom of the Walterdale Road hill and follow the road to the far west end of the park. Tour will be rescheduled if there is inclement weather.
Those interested in a copy of the tour Guide book "The Valley Beneath are Feet" by Dr. Dave Cruden, Dr. Bruce Rains and Dr. Stanley Thomson (Cost $7.00 and please bring correct change) should indicate so in their RSVP to Robert Donahue.
Confirm attendance with Robert Donahue (rdonahue@ualberta.ca).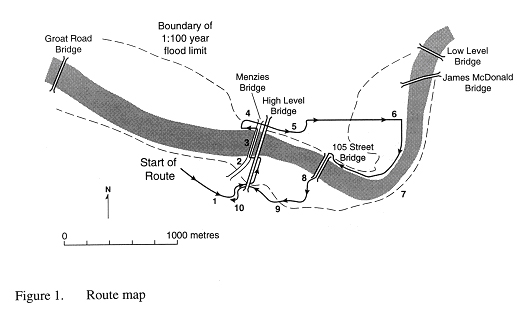 NEWS ARCHIVES
CONTACT
c/o. Department of Civil and Environmental Engineering
7th Floor, Danadeo Innovation Center for Engineering
9211 - 116 Street NW
Edmonton, Alberta
CANADA T6G 1H9
Email GSE
Email Web Admin
Registration Form